ACTORS GYM, LLC is a registered trademark©
For those actors who are serious about taking it to the next level!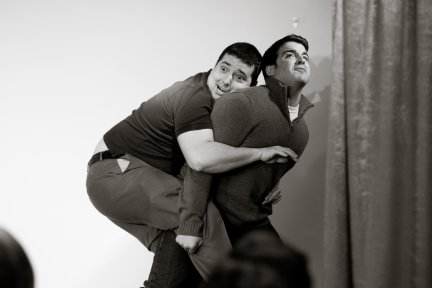 Improve Your Improv
IMPROVISATION / Intermediate/ Back by Request!
This class is a continuation of the Beginning Class with a little more advanced focus
As an actor, do you realize how much improvisation plays a part in every successful scene you do?


Achieve spontaneity and freedom through improvisational techniques, using body, gestures, and emotion, for use in aspects of all performance. Students engage in group scenes, two-person exercises, and solo work, emphasizing spontaneity, listening, making and committing to choices, agreement, and working with others.
Through acting techniques and comedy improvisation exercises you will:
· Learn how improv applies to all acting
· Build confidence in your acting ability
· Exercise your imagination
· Learn to think creatively on your feet
· Fine-tune your performing skills in areas of timing, being physical, comedy styles, creating characters and more!
Whether you're a beginner or a seasoned professional, The Actors Gym will allow you to explore your imagination, your voice, and your intellect in a safe and rewarding environment.
This class is not available on Zoom
Ages: 13 - infinity
Date: - Beginning Monday(s), February 13, 2023
(6 Sessions)
Time: 7:00 p.m. - 9:00 p.m.
Fee: $279
Enrollment Limit: 10
General Student - $279
Currently enrolled in another Actors Gym Class Students - Special $199
Classes held at The Actors Gym Studio
3013 Dixwell Ave., Hamden, CT
Below Results plus

About registration and cancellation

203-804-7870